Excursion Destinations near lake Klopeiner See
If the sun has overslept a bit or is timid, you do not need to despair immediately.
There are too many worthwhile excursion destinations, which can be visited with a Kärnten Card at reduced fees or even for free.
Castles, palaces, monasteries, museums, the Minimundus, cable cars, viewpoints, boat-trips – everything is there.
For guests who want to make use of this offer, we have put together a Carinthia-Package.
The content was mostly taken from the websites of the respective destinations (unproofed, also in extracts).
Within walking distance:
Game Park Wildgatter Klopein (1 km): Children can feed deer, there are also other small animals. Who rather would drive can also come here riding an small funny-train. A wine tavern "Buschenschänke" provides during the opening hours snacks and apple juice or apple cider.
Forest Experience World Klopeiner See (1 km): A world full of exciting places.
Jumping, climbing, balancing: forest experience world at Klopeiner See was created for children and their needs. This is a natural playground 20,000 square metres across, boasting over 50 open-air attractions.
Stand-out features include the treetop trail, with a 28-metre-high observation tower, while a visit to Reiny's fox's den submerged underground.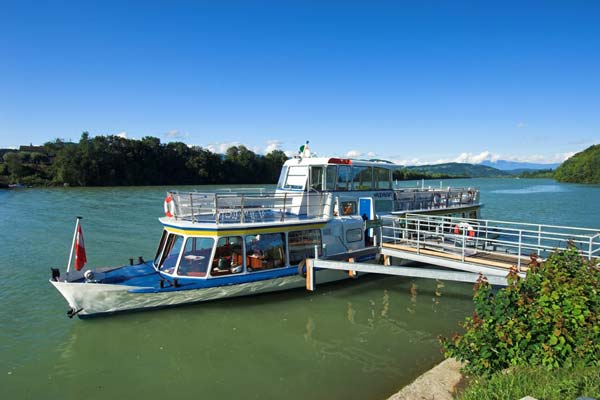 Bird Park: Vogelpark Turnersee (4 km): The Turnersee bird park operates on the principle that no animals are to be removed from their natural habitat. The 300 species presented to visitors are thus mainly the product of their offspring.
As well as traditional crowd pleasers such as parrots, cockatoo, birds of prey or pheasants, the selection includes lesser-known species such as lorikeets or Amazons.
There is also an petting zoo, which features rabbits, guinea pigs, dwarf goats, alpacas and ponies, plus an adventure children's playground and a bouncy castle.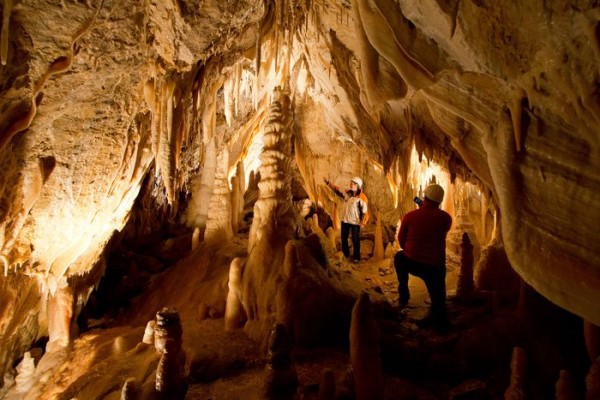 Obir-Stalactite Caves (20 km): Nature has been perfecting this work of art for millions of years. Visitors to Bad Eisenkappel have three hours to get an inside look at the breathtaking grottos and hollows of the Obir stalactite caves. 200 million years of history and state-of-the-art technology make any visit to the Obir stalactite caves an unforgettable experience. The huge stalagmites, stalactites, caves and grottos offer an incomparable spectacle.
The Obir stalactite caves are not accessible to normal motor vehicles. Visitors are taken to the cave by an shuttle-bus from the Bad Eisenkappel ticket office.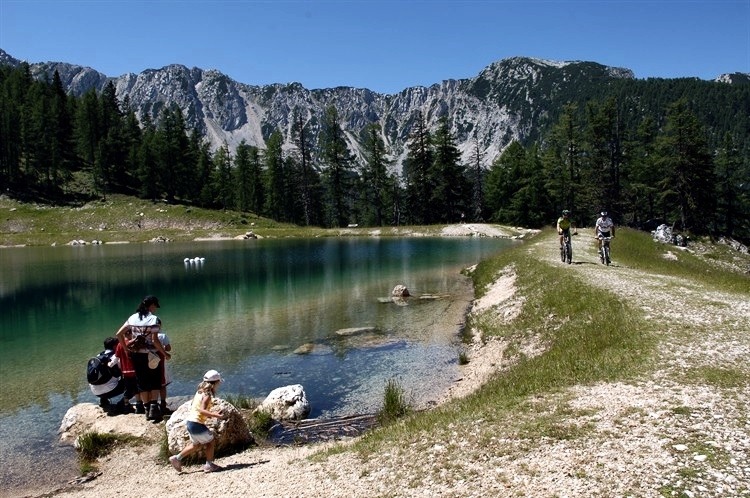 Petzen Bergbahn (20 km): Take the easy way to the summit with the Petzen Cable Car (free for Kärnten Card holders). The Petzen cable car (gondola lift) takes you to a height of 1,708 m above sea level. Enjoy wonderful panoramic views of the Jaun Valley and the mountains, lakes and lakes of Southern Carinthia. Petzen offers wide-ranging leisure activities, from mountain hiking, climbing and mountaineering to mountain biking or cycling, right up to a tandem flight with a paraglider.
Enjoy the thrill of the 10km downhill Flow Country Trail Petzen. The Flow Country Trail Petzen has opened for bikers from mid-May. Covering a total of ten kilometres, it is the longest country trail in Europe and also offers three cross-country trails.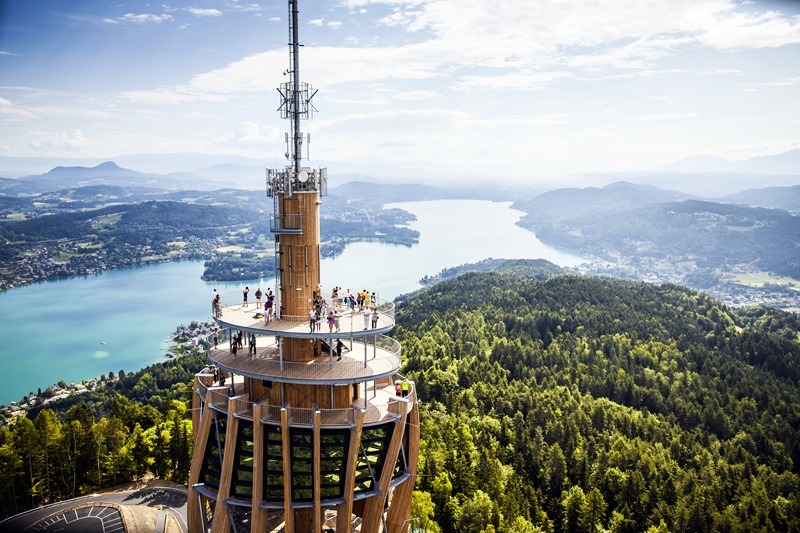 Observation Tower: Pyramidenkogel (35 km): Carinthia's most beautiful lookout point!
Enjoy a unique panoramic view of Carinthia and its impressive landscape of lakes (lake Wörthersee, valley of four lakes of Keutschach) and mountains from an altitude of 920 m – from the world's highest wooden look-out.
Using one of Europe's most modern panoramic lifts or the staircase you may comfortably reach the panoramic platforms. Europe's highest slide: start at a height of 51,4 m, length 120, weatherproof glass Skybox.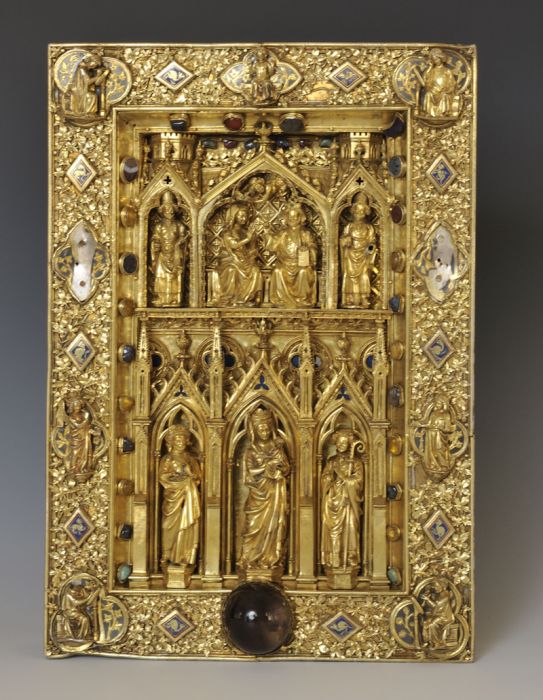 Treasury of Carinthia – Benedictine Monastery of St. Paul: Stift St. Paul (35 km): Embedded in the landscape of the Lavanttal valley the monastery of St. Paul arises on a rock cone. In 1091 Benedictine monks from the monastery of Hirsau settled here. The former reception halls of the monastery are today used as the monastery museum presenting medieval goldsmith´s works, treasures, one of the most important manuscript collections and a valuable art gallery with works by Rubens, Van Dyck, Holbein, Leonardo da Vinci and Kremser Schmidt.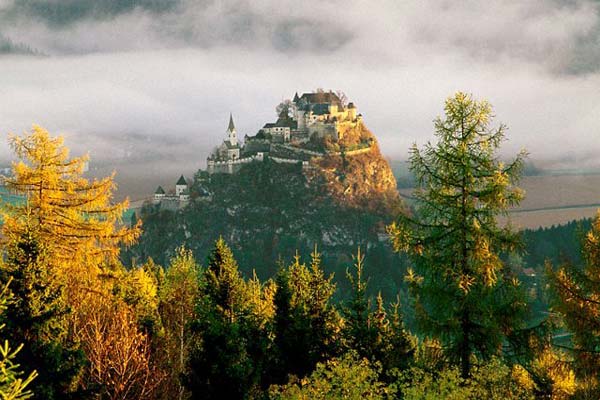 Medieval Fortress: Burg Hochosterwitz (30 km): Hochosterwitz Castle was first mentioned in a 860 deed and is possessed by the Khevenhüller family since the 15th century. Hochosterwitz Castle is one of Austria's most important and impressive Renaissance castles. The superbly preserved castle was built from 1570 to 1586 over a much older core.
Worth to see: Armory museum, weapons collection and the Renaissance gallery bear witness to the history of this fortification.
A path through 14 gates and a passenger lift lead up to the 150-meter high castle rock, on top of which the fortress stands.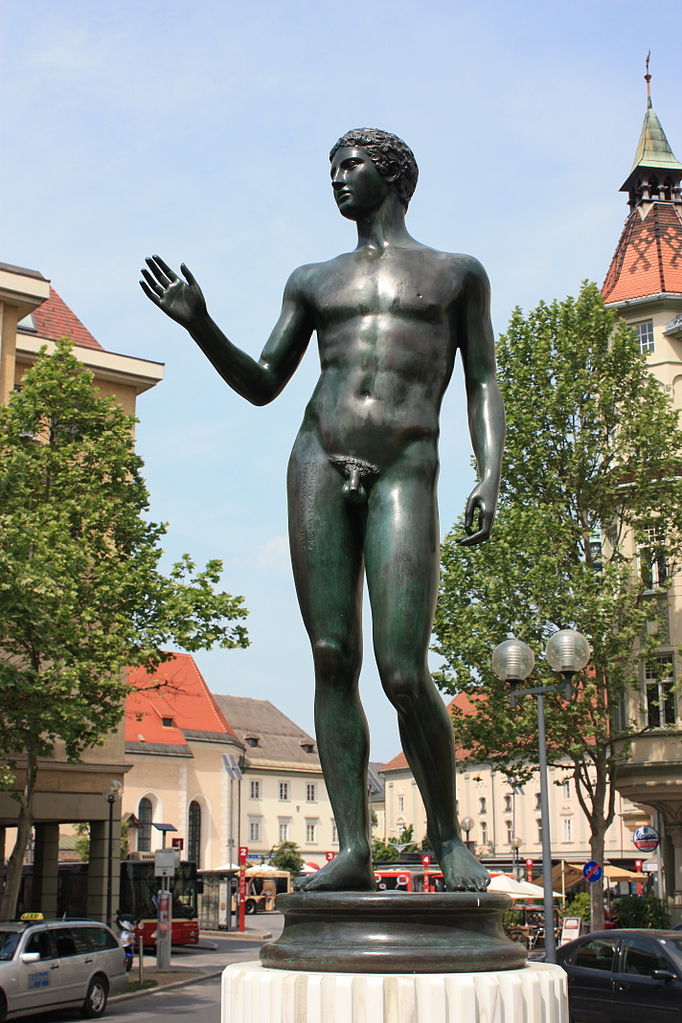 Archaeological Park Magdalensberg: The "Town at Magdalensberg" (25 km) ranks among the largest excavation sites of the eastern Alps and is archaeologically studied since 1948. The parks size is about 4 hectares and shows important areas of the ancient settlement and its ruins.
Along your way across the historic area you may encounter the "Youngling from Magdalensberg" and many other findings, proving Roman life at Magdalensberg.
Other interesting exhibits can be found in the Landesmuseum Kärnten, the cultural and natural science museum in Klagenfurt am Wörthersee (closed for renovations at present).
More interesting places
Neuhaus – Museum Liaunig (30 km) The Museum Liaunig possesses one of the most extensive collections of contemporary Austrian art since 1945, which is supplemented by leading representatives of classic modernism and exemplary works of international artists.
As a counterpoint to contemporary art, an artistically and ethnologically unique collection of African gold is shown.
The exhibits of the collection Liaunig, which contains all important object types of the Akan art, show finest craftsmanship in conjunction with highest aesthetic quality.
Summer Theatre (6 km): A must-stop for those in the know is the Summer Theatre in Südkärnten.
The open-air stage is located in the courtyard of the former monastery of the Canons Regular of St. Augustine's Order. Founded in 1976, the Summer Theatre is nowadays one of the largest and best known theater festivals in the country. The program features comedy rarities and ancient comedies in July and August.
There is an ascending public gallery, which currently offers 432 seats.

Griffen (20 km): The distinctive emblem of the municipality of Griffen is the castle rock, which houses probably the most colourful dripstone cave in Austria.
Stone Age finds in the cave point to the first human traces in present-day Carinthia. One of the mightiest castles of the Middle Ages stood in Griffen, and today the ruins still remind us of that time. The castle rock is accessible via a generously laid out hiking trail including nature trails, a well-run castle-tavern invites you to take a break.
Globasnitz and Mt. Hemmaberg (15 km): Globasnitz in Southern Carinthia is situated in an ancient settlement region with a long, historic past, and is assumed to have been settled during Celtic times.
The Hemmaberg with it´s striking rock walls is visible from far away.
In the rock it houses the Rosalia grotto with its medicinal spring. Both are cult sites and popular destinations.
A total of five churches, a hospice and residential rooms dating from the 5th and 6th centuries have been uncovered on the Hemmaberg. The excavation site is accessible free of charge and marked with information boards. The small finds are on display in the Hemmaberg Juenna Archaeological Museum of Pilgrims in Globasnitz with the tiny Elberstein Castle.
Klagenfurt (30 km): Capital of the holiday region Carinthia and Garden City by Lake Wörthersee, offers some interesting attractions.
On the outskirts of Klagenfurt directly by Lake Wörthersee lies Minimundus – the miniature world by the lake Wörthersee. Around the world in just one day!
Come and admire more than 150 of the most beautiful miniature architecture models, ships and trains from all over the world.
The Taj Mahal is a stone's throw away from Eiffel Tower and the Great Wall of China is just a few steps away from the Basilica of Saint Peter. Many interactive stations on 1300 sqm indoor exhibition space are perfect for an active family adventure.
Next to it: Reptilienzoo Happ, the most complete reptile zoo of Austria with 1000 animals presented on 4000 m² and the Planetarium.
The mileage is "approximate" information, the times indicated are about 30 minutes by car .
Some more Tourism-Enterprises: